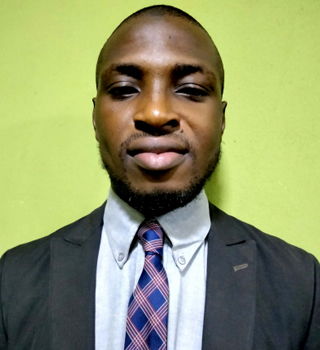 OLANREWAJU OTTUN
LEGAL OFFICER.
Profile
ABDULHAFEEZ OLANREWAJU OTTUN is a Law graduate who is fully aware of the structure, culture and procedures of the legal profession. He is a prolific resource person and a proficient public speaker.
He is a graduate of the University of Benin, where he obtained a Bachelor's Degree in Law (LL.B). Having attended the Nigerian Law School, he was called to the Nigerian Bar as a Barrister and Solicitor of the Supreme Court of Nigeria in the year 2016.
He has since his call to Bar been in active legal practice with wide experience in commercial practice, especially in the area of loan, mortgage and debt recovery matters. He has worked with debt recovery agents to the Asset Management Corporation of Nigeria (AMCON).
Mr. Ottun is an Associate Member of the Chartered Institute of Arbitration, UK. And also a member of the Nigerian Bar Association.
He is experienced in and has a good understanding of how to build relationships with people and to provide appropriate and effective legal advice and services to them.
He is distinguished by self-motivation and his special attention for details.
He is a creative and result oriented goal getter with ability to liaise with case officers, managers and decision makers with regards to on-going legal matters.
He Always demonstrates professionalism in all his dealings with any issues he came across and has extensive knowledge of legal, secretarial and office practices.
He is an expert at applying the law to a specific situation faced by him.
He is a Team Manager, Exceptional Negotiator and Outstanding Public Speaker
He is an Expert in Arbitration and other dispute resolution mechanisms.
He has the ability to conduct research in all areas of law and non-legal related affairs.
He is an Expert in Loan related contracts with an eye for details and Hi-impact Decision Making.
He is an Expert in Loan court actions, and veteran in debt recovery cases.
He has the ability to work in a fast paced environment & complete projects to schedule.
He is good in Preparing lengthy reports, Drafting legal paperwork, agreements, memorandum of understanding, legal opinions and letters of advice.
He is competent in Initiating and conducting litigation proceedings and Liaising with the other professionals.
He is good in explaining legal matter clearly to non-legal professionals and in Keeping up to date with changes and developments in law.
He is an Excellent problem solving and solution finding person.