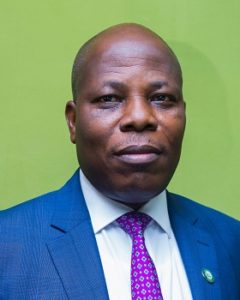 EBENEZER OLAWALE OSISANYA, a resourceful, exemplary and successful Chartered Accountant and Chartered Banker with over 25 years experience in Banking (Mortgage Banking inclusive)
Our dynamic and focused leader is a fellow of various professional bodies including, the Chartered institute of Bankers of Nigeria, CIBN (2009), The Institute of Chartered Accountant of Nigeria ICAN (2009); Member of Institute of Directors (2008); Alumni of Lagos Business School. His academic pursuit was crowned with a Master In Business Administrations (Financial Management), 2010 from Lagos State University.
His banking career voyage started in 1982 and his first point of call was the National Bank of Nigeria Limited. In 1993, he joined United Commercial Bank Limited. Not resting on his oars, he proceeded to Mercantile Bank of Nigeria Plc in 1994 and became a Branch Manager. He became the Managing Director of Stallion Homes Savings and Loans Limited in 1998. He also served with distinction in notable primary mortgage institutions,one of which is Intercontinental Homes Limited in 2003 as the GM/CEO. His multi-facet experience cut across all sectors of corporate organization: knowledge of Mortgage Institutions dynamics covering product knowledge ; Key institutional relationships and working knowledge; Structural arrangements liquidity management; Risk management. Other areas of exposure are Human Capital, Pension Administration, Foreign Operations and Head, Central Account.