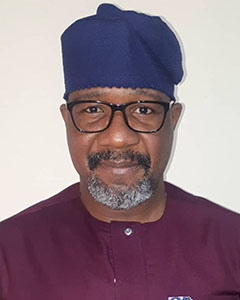 PROFILE
Adegbenga has twenty four (24) years financial services experience in Nigeria and the United Kingdom industries. In his investment management roles he progressed to portfolio manager and head of investments positions, coordinating teams that set up investment objectives, determine asset allocations, coordinate investment committees and execute investment mandates. In his advisory roles he has anchored strategy development, transaction advisory, financial advisory and performance management mandates along with managing key relationships
He was a Partner at Riverbank Capital where he is responsible for business development, project delivery, capital structuring, fund raising, performance management services for clients, forensic accounting & principal investment companies. Industry focus is on the Energy sector – Power, Oil & Gas, FMCG Manufacturing, Marine and Logistics sectors.
He was the pioneer Head of Investments, Leadway Pensure PFA, a Pension Fund Administration with over N90 billion under management & former CEO of SIM Capital Alliance Ltd, an investment management joint venture between Sanlam, a leading Investment Management company in South Africa and African Capital Alliance the oldest and Foremost Private Equity firm in Nigeria
He also has prior experience with Barclays Funds, Legal & General, BONY Mellon Bank in the UK
Adegbenga has a BA (Hons) Accounting & Finance, an M.Sc Investment Management with Distinction (Cass Business School) and is a Fellow of the Association of Chartered Certified Accountants (FCCA). He has also served as faculty training various corporates, banks and financial institutions such as Leadway Pensure & AMCON on Bonds Trading, Asset Management, Capital Budgeting & MS Excel Modeling
He enjoys running, swimming, playing squash, chess and reading. He is married with children.