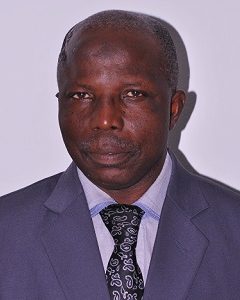 PROFILE
Mr. Hassan Taiwo Adekunle is a Chartered Accountant with so many years of experience. He was born in Ayetoro to the family of Alhaji and Alhaja S. A. Adekunle in Yewa North Local Government Area of Ogun State on the 2nd of August, 1965.
He attended The Federal Polytechnic, Ilaro (Ogun State) between 1983 and 1988 and passed both final examinations of the Institution at Upper Credit Level. He holds a MBA with distinction from the Olabisi Onabanjo University. He is a Fellow of the Institute of Chartered Accountants of Nigeria.
Mr. Adekunle, before joining Leabub Nigeria Limited as an Internal Auditor in January, 1992 (having qualified as a Chartered Accountant in May, 1991) had worked in so many organisations which included Aquarius United Services Limited, Marine Factors Nigeria Limited, Layicon Construction Company Limited and Elektrint Nigeria Limited.
Due to his exemplary commitment and dedication to duty, Mr. Adekunle, upon confirmation of his appointment by Leabub Nigeria Limited in July, 1992 was promoted to the post of Senior Accountant, the first of its kind in the history of the Company.
He resigned his appointment with Leabub Nigeria Limited in August, 1992 to join Commerce Bank Limited as an officer.
He was in Commerce Bank Limited till October, 1997 during which he held so many positions and discharged a lot of responsibilities which spanned through Credit Appraisal, Account Monitoring, Debt Recovery, Handling of Settlement Letters, Preparation of Annual Budget, Branch Co-ordination, Inter-Branch Reconciliation, Policy Review and Preparation of Various Reports. While in Commerce Bank Limited, Mr. Adekunle was also involved in some other special assignments during which he functioned as Warehouse Manager, and therefore was responsible for stock control, receipt and issue of goods, clearing of goods from the Apapa Port to the Warehouse.
Also at Commerce Bank, Mr. Adekunle served as the Central Cash Officer, the position which tasked him with the responsibility of arranging, planning, supervising and controlling cash movement to and from the bank branches, Central Bank of Nigeria and other banks as a result of his brilliance.
In his quest to pick up a career in the Civil Service and the thirst to serve his dear State, Mr. Adekunle joined the Civil Service of Ogun State as Assistant Chief Internal Auditor for the Ogun State Water Corporation in November, 1997, the position he held till February, 2002 after which he became the Director of Commercials for the same Organization between March 2002 and March 2007.
At the wake of reform in the Ogun State Water Corporation, Mr. Adekunle was re-assigned to function as The Director of Internal Audit beginning from March to October, 2007. His brilliant performance in all these assigned functions later earned him the position of The Assistant General Manager (Finance) of the Corporation in November, 2007; the position he held till February, 2010 before being deployed as Director of Accounts in the Office of The Accountant-General for Ogun State.
At the Office of the Accountant-General, Mr. Adekunle has functioned as the Director, Finance and Accounts for the Ogun State Agricultural and Multi-Purpose Credit Agency after a brief stay at the Abeokuta Treasury Cash Office. He was the Director, Finance and Accounts in the Ministry of Education, Science and Technology from January 2012 to October 28th 2015. He was appointed a Permanent Secretary on the 29th of October, 2015 by His Excellency, the Executive Governor of Ogun State, Senator Ibikunle Amosun CON, FCA.
Mr. Adekunle is the Permanent Secretary for the Ministry of Budget and Planning, Ogun State.
He has attended so many courses both home and abroad. He is a resource person and has delivered so many papers at various seminars and workshops. He has been an assessor with the Institute of Chartered Accountants of Nigeria since 1999 and has assessed the following papers:
Financial Reporting and Audit Practice

Public Sector Accounting and Finance

Multi-Disciplinary Case Studies

Fundamentals of Financial Accounting and

Financial Accounting.
He is married to Alhaja Rafeeat Adekunle and the union was blessed with children in equal number of boys and girls.
Mr. Adekunle is a Non- Executive Director of Gateway Mortgage Bank Limited.