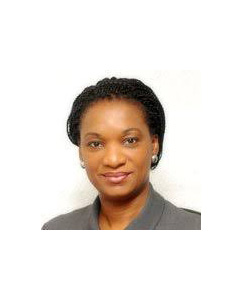 KIKELOMO LONGE
NON-EXECUTIVE DIRECTOR
Profile
Kikelomo Longe is the Honourable Commissioner for Industry, Trade and Investment in Ogun State. She has over 34 years varied professional work experience across the Private Equity, Venture Capital, Audit and Accounting, Consulting and Banking industries.
Kikelomo worked for over 20 years at African Capital Alliance (ACA) where she rose to the position of Head of Investor Relations, Fundraising and Marketing until January 2020. ACA is Nigeria's leading independent Private Equity firm, with over US$1.2 billion assets under management and investing principally in Nigeria and countries across the Gulf of Guinea. Investors in ACA-managed funds include: Development Finance Institutions such as International Finance Corporation (IFC), CDC, the United States Overseas Private Investment Corporation (OPIC), European Investment Bank, the Netherlands Development Finance Company (FMO), African Finance Corporation and Sovereign wealth Funds of some Asian and African countries. Other investors include public and private pension funds and other financial institutions.
A result-oriented investment expert, Kikelomo served on the board of directors of the Nigeria South Africa Chamber of Commerce and was a member of the team that founded the American Business Council, Lagos. She represented ACA on the Nigerian Canada Business Association.
She also organised and facilitated board-level capacity building sessions for ACA's pension fund investors in collaboration with the National Pension Commission (PENCOM).
She was actively involved in the activities of the following Private Equity Industry Associations – Private Equity and Venture Capital Association of Nigeria (PEVCA), African Private Equity and Venture Capital (AVCA), Emerging Markets Private Equity Association (EMPEA).
Her passion of helping young minds fulfil their purpose propelled her to become a member of the counselling team of the 'Apostles in the Market Place' that provides counselling to young professionals on ethics and overcoming career and personal challenges.
Kikelomo was Head of Finance at Ventures & Trusts Limited (V&T), a specialised Venture Capital/Project Finance firm that managed Funds for the European Investment Bank (EIB) and other investors. V&T's investee companies included many small and medium sized companies operating in sectors such as manufacturing, Agricultural-processing, hospitality, maritime and services.
An indigene of Abeokuta South Local Government Area, Kikelomo co-founded some family businesses in the trading and logistics sectors. One of these companies supplies specialist raw materials to major Multinational Corporates in the Manufacturing and Oil and Gas sectors in Nigeria. Another provides mining logistics services to major mining companies in Sierra Leone and The Gambia.
She was a pioneer staff of Lead Merchant Bank where she championed the set-up of the Bank's internal control, operations, credit and treasury systems. While at the Bank she worked in the financial controls as well as the credit and marketing department in addition to doubling as the Company Secretary.
Kikelomo started her career at Deloitte where she led the audit of several companies across various sectors. She also worked on several specialist tax assignments for the firm's clients. After obtaining a first degree in accounting from the University of Lagos, Kike qualified as a Nigerian Chartered Accountant, winning two national prizes in the qualifying examinations.
She has attended several local and international professional training courses in Private Equity, General Management, Public Speaking, Business Writing, Fundraising and Investor Relations.
She is presently a Non-Executive Director of Gateway Mortgage Bank Limited. She is married with children and enjoys counselling, singing, gardening and crafts.