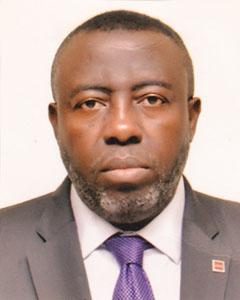 PROFILE
Olaolu Olabimtan is the Managing Partner/CEO; Olaolu Olabimtan & Co (Chartered Accountants)/Financial & Business Advisory Associates.
Olaolu has led the practice on a full-time basis since 2009. He has led the team in serving Federal Inland Revenue Service, Osun State Internal Revenue Service and Lagos State Internal Revenue Service. The team has also provided tax advisory services to several companies.
Olaolu served at a time as a short term middle level expert for European Union – Support to the Reforming Institutions Programme; Public Expenditure Assessment in Yobe State using PEFA – Performance Measurement Framework.
He was also a consultant for Department for International Development: State Partnership for Accountability, Responsiveness and Capability Programme on Analysis of MDG-Expenditure in Nigeria's Federal, State and Local Government Budget
Olaolu has the B.Sc. Accounting and the M.B.A Finance degrees of the University of Lagos.
He is a fellow of the Institute of Chartered Accountants of Nigeria. He passed the qualifying examinations at first sitting in 1990.
He is also a fellow of the Chartered Institute of Taxation of Nigeria and an associate of the Association of Chartered Certified Accountants (ACCA) of the United Kingdom.
Olaolu is a Certified Fraud Examiner, a Certified Forensic Accountant and is also certified by the American Institute of Certified Public Accountants as an IFRS expert. Olaolu is also a Chartered Professional Accountant in Canada and practices as well in our Canadian subsidiary; O O & Co Professional Services.
Olaolu has also been certified by the Centre for Management Development as a Management Consultant & Trainer
He trained with KPMG (Former PMAO and later KPMG) and AWD before moving on to Price Waterhouse Coopers thereby acquiring world-class experiences at both trainee and senior levels in three out of the big four in the industry.
Olaolu has also acquired vast experience in the financial services sector, having worked with five renowned banks and rising to general management cadre in the industry.
He is very versatile with soft wares and is indeed an expert in several banking, accounting, auditing and ERM soft wares.
He has attended many courses in Nigeria and overseas including the Advance Corporate Accounts Management Course of Servexcel India and the Executive Development Programme of the University of Chicago Graduate School of Business.