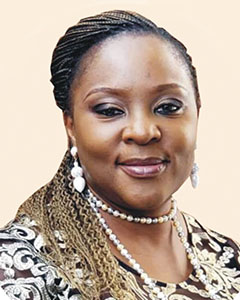 PROFILE
Mrs. Oluyemisi Dawodu (Nee Somorin) hails from Iperu Remo, in Ikenne Local Government, Ogun State.
She has had a successful career in several sectors of the Nigerian and Ghanaian public and private sectors which has spanned over 25 years. "A firm believer in a shift from self-serving leadership to leadership that serves others, she was appointed by the National Assembly of the Federal Republic of Nigeria, as the first female Honourable Federal Commissioner of Public Complaints Commission, Ogun State in 2015, a position she held until 2018. During her tenure, she was recognized for her commitment to serving the people of her state with great passion and empathy.
As a former banker and foundation staff member of the then Universal Trust Bank, Mrs Dawodu deployed her legal skills to help consolidate the foundation of a fledgling bank. Oluyemisi is a highly constructive extrovert and a goals-focused hospitality professional . Her ability to effectively plan, set priorities and manage several projects simultaneously while maintaining stability, dependability and professionalism , led her to start her own hospitality business,  Dee's Services in 1998 in Nigeria and later also in Accra, Ghana. During which time the outfit catered for visiting heads of Governments and diplomats.
She was educated at the prestigious Corona School, Ikoyi and later proceeded to England in 1977 to complete her primary education. She later went to Clifton High School For Girls in Clifton, Bristol, where she sat for both her O' Levels and A'Levels.
She proceeded to Warwick University where she did her Foundation Course in Law and then to COVENTRY University (formerly COVENTRY Polytechnic) where she studied Business Law. In 1989 she attended the Nigerian Law School, Lagos and on the 12th Of December 1990 she was called to the Nigerian Bar.
A prolific philanthropist, she is and remains a core member of The Women's Helping Hand Initiative (TWHHI), a non-governmental organisation and has served on numerous committees and a member of various societies and charitable organisations.
She is an Independent Non-Executive Director of Gateway Mortgage Bank Limited and a member of the Institute of Directors.